The Zion Christian Mission Centre is , a Bible education institution of Shincheonji Church ofjesus is running a program under New Heaven and New Earth. They teach the entire Bible, from Genesis to Revelation with the Word as the only standard.
The Zion Christian Mission held a Graduation Ceremony of Class of 113th of the Zion Christian Mission Center Class at the Daegu Stadium on November 20. A total of 106,186 graduates were in attendance, making it the world's highest number of students to graduate in a theological education institution. This  large-scale in-person event was hosted in Daegu, where Shincheonji Church of Jesus is focused on contributing to revitalizing the local economy and peacefully coexisting with local residents. For safety purposes, the number of participants that attended the ceremony in Korea was limited to 80,000, while 300,000 more participated by watching the live broadcast on YouTube which is available to the whole world in nine different language. Transportations for 100,000 people, accommodation for the staffs, meals and all possible consumptions were carried out in the region in ways to benefit the local residents. Cooperating with local government, in light of high safety concerns, the church arranged a total of 14,000 safety personnel to maintain order inside and outside the venue, and to prevent crowding, people will be entering and exiting over a span of four hours. 180 medical staff and four ambulances stayed on standby in order to ensure maximum safety.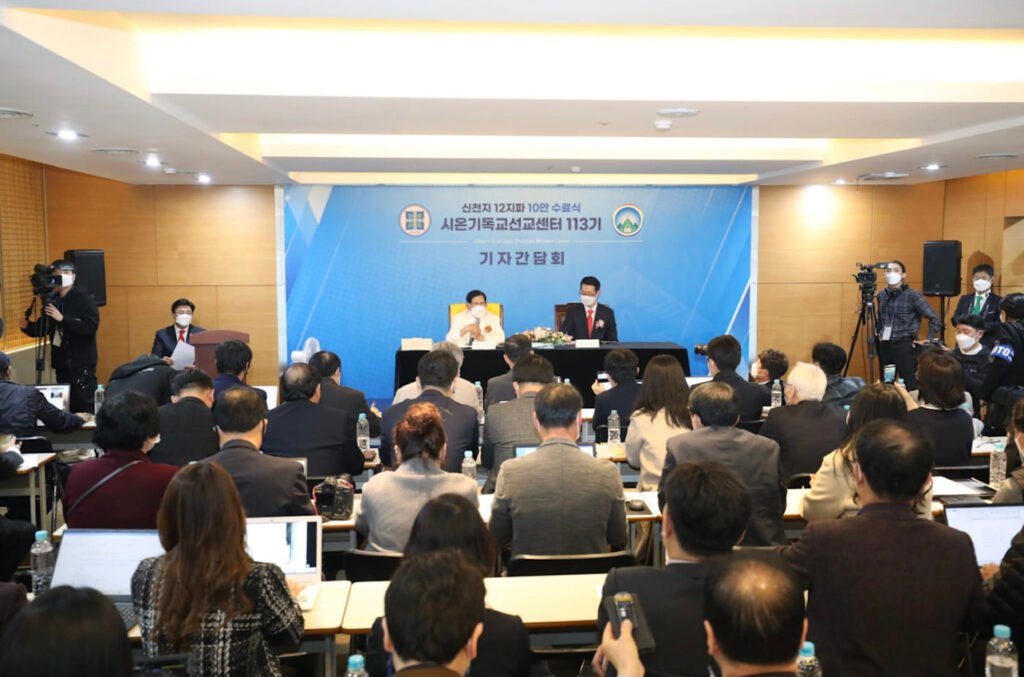 A commemoration speech by Chairman Lee Man Hee. The graduation ceremony was followed by showing graduates in Korea and overseas, along with congratulatory performances, awarding of certificates, turning of the tassel, graduates' speeches, and special performances. It also consisted an opening ceremony with praise worship, congratulatory speeches, congratulatory messages, representative prayer. Dee Jackson, a representative of the graduates overseas, is a pastor in India who signed an MOU after seeing Shincheonii Church of Jesus's online Bible study last October. Currently, the head pastors and the 294 congregation members of the two churches that are affiliated with the denomination have completed the entire course of the Zion Christian Mission Centre and are listed as graduates of Class of 113.
Compared to the past years, the numbers of pastors that graduated increased significantly for Class of 113. The number of pastors and theology students increased rapidly because an environment where they did not have to be cautious of others while taking the class was created. There were a total of 522 pastors graduating, including 37 in Korea and 485 overseas. The pastors here are so dedicated that even during the COVID 19 pandemic, pastors were able to access the introductory, intermediate and Revelation (advanced) level lessons online on YouTube without being cautious of others. The only mission of Zion Christian Mission Center is to help every believer examine one's faith within the context of the Bible and see oneself transform and recreate into God's image and likeness, and while carrying out this mission, they bind ourselves with faith, hope, and love.