The Largest Woman-Led Ponzi Scheme in U.S. History

One of California's now infamous residents is Gina Champion- Cain. For the past few years, she has been all over the media for masterminding one of the biggest Ponzi Schemes led by a woman, valued at over $350 million dollars. This happened in an upscale community in San Diego.
Gina Champion- Cain is in prison for 15 years after pleading guilty to the charges. Her husband has filed for divorce.
This best-selling book, I Did It is authored by Barbara Bry and Neil Senturia who live and work in San Diego, California. They both knew Gina Champion-Cain for many years and traveled at times in the same business circles. They were unaware this woman who appeared to be a hugely successful entrepreneur and a pilar in the community, was running a Ponzi Scheme
It is unbelievable to think that at one time Gina was an icon in San Diego. Gina was smart, savvy, beautiful who portrayed herself as a woman who broke through the male dominated glass ceiling. Gina's empire included real estate, restaurants, and retailestablishments. She was also a guest economics commentator for the San Diego Union-Tribune; she served on prestigious corporate and nonprofit boards. Her ego even led her to consider a run for Mayor in 2004.
Once you turn the pages of this of this riveting book, you will discover a multitude of participants such as hedge funds, banks, egomaniacs, and small-time crooks, all fueled by greed, stupidity, and a keen desire to look the other way. Even when they were looking in the right direction, all of these people and entities saw nothing.
Gina was a magician of misdirection, acting with caring behavior to other people (while bilking her investors), creating philanthropic endeavors and – pursuing her dream of building an empire, taking it public, and cashing out all the investors.
This sounds very familiar if you watched Inventing Anna on Netflix. A very similar mindset that was not in reality.
Her phony businesses came crashing down in August2019. Cain's seven-year program of selling phony liquor license loans came to an end when the SEC, the US Attorney's Office, and the FBI filed suit and shut it down.
"It is true that Gina was the mastermind, but she was aided and abetted by bundlers, investors and a title company, in search of outsized returns, all desiring to never know how the sausage was really being made," said Senturia.
Gina Champion -Cain plead guilty and was sentenced on March 31, 2021, when she admitted that she swindled more than $350 million from investors promising to use their money to make loans to business owners who were attempting to acquire California liquor licenses. Gina will be 68 years old when she is released from prison.
American Greed interviewed Neil Senturia the co-author of I Did It, so he could share some eye-opening information about Gina and her Ponzi Scheme. Look for that to air soon.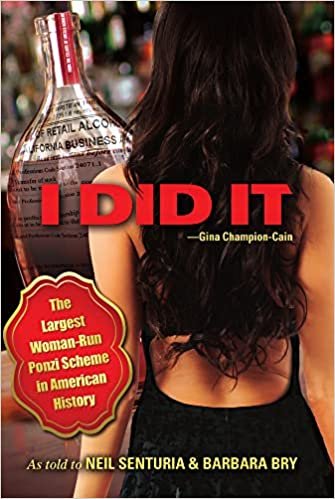 I Did It is a book you will want to read to learn details that are not in the newspapers. Perhaps a new TV series is in the future!
You can learn more at: