THE HEARTFELT PERFORMANCE OF EUPHORIA BREAKOUT STAR ANGUS CLOUD HAS EVERYONE ROOTING FOR HIM. THE FIRST-TIME ACTOR TALKS ABOUT BEING FOUND ON THE STREETS OF NEW YORK, GROWING UP IN OAKLAND, AND PLAYING A COMFORTABLE DRUG DEALER.
With his debut performance in HBO's Euphoria, newcomer Angus Cloud has grabbed the hearts of audiences. The Emmy-winning drama, directed by Sam Levinson and produced by A24, presents a chaotic, insane life of drug addiction, love, grief, violence, sex, and drama among a group of high school friends, with star Zendaya, who plays Rue, at its core. Local drug dealer Fezco, better known as Fez, played by Cloud, is the heartfelt character who has people on social media tweeting a storm—and vowing to stop—if something happens to him in the season finale.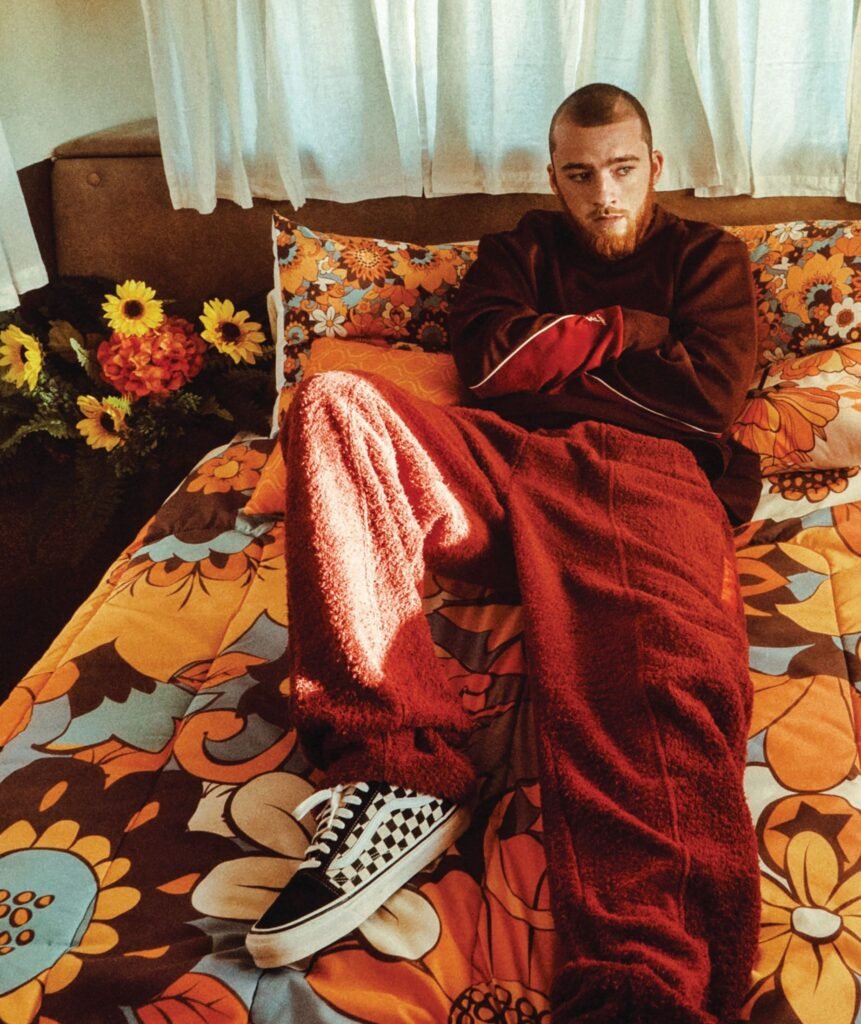 Season 2 began in January with more than 14 million viewers, making it the most-watched episode of an HBO series ever on HBO Max (more than double the average viewership of the first season). "The entire cast and crew of Euphoria have taken Season 2 to amazing heights, breaking narrative convention and form while preserving its heart," stated Francesca Orsi, EVP of HBO Programming, after the show was renewed for a third season. Heart, which comes from the empathic characters, lies at the heart of the cult-favorite series.
The award-winning film sheds light on real-life portrayals of American youths, notably Fez, who does not want his friend, the 17-year-old addict Rue, to self-destruct, and refuses to provide her drugs on numerous occasions. "It's a complicated connection," Cloud says when asked about playing a drug dealer with morals. He doesn't want to encourage her bad habits, but he also doesn't want to abandon her."
"He has to, or feels compelled to, be there for [Rue] in some way," Cloud says of his character's urge to look after those around him. Fez serves as a protector throughout Euphoria. Along with younger-brother figure Ashtray, played by Javon Walton, he looks after his homebound comatose grandma. He goes so far as to take in a drug addict named Faye, who begins to live with him.
Cloud and Fez have a lot in common in real life. The first-time actor grew up in Oakland and was discovered on the streets of New York City by a casting executive. He recalls his 2018 encounter: "I was walking with my homies and a chick asked me if I wanted to come to her tiny studio or whatever it was."
Cloud was sceptical of the executive who was looking for a teen to play the nuanced role of a drug dealer with heart at first: "I talked to her for a while to try to figure out if she was really being honest with me, so I took her phone number and I called her up the next day and went over there," he says. "She asked me a few questions, and… they taped it…" For the first-time actor, the rest was history.
Cloud claims that as a child, he never imagined himself as anything in particular, and that he could never have imagined that this life-changing meeting would lead him to just a few years later. "It's strange," he admits. "I had no grand ambitions to be an astronaut or anything, so I'm just going with it." When talking about his life in Oakland, Cloud depicts a close-knit community comparable to the one depicted in Euphoria. Growing up with his family, which included his two sisters, he recalls as "pleasant." "I'm still quite tight with everyone I knew in high school."
He was able to draw on his familial bonds to play the elder brother position. "I wouldn't say [playing that part] was simple," Cloud explains, "but me and Javan are really close, so it felt pretty natural." Walton feels the same way about his co-star: "We hit it off right immediately." When we started filming Season 1, I was only 11 years old, but I appreciated how he didn't treat me like a child and always made me laugh."
Both actors shared the majority of their scenes in Euphoria, which was a first for them. "Fez is a nice guy who got himself into some awful situations," Walton continues. "I don't think anyone else could have done a better job than Angus at bringing Fezco to life." He's not hesitant to ask for help because he's really humble and only wants to provide his best."
Fezco's love interest, Lexi, is played by Maude Apatow (daughter of famous parents Leslie Mann and Judd Apatow), and the couple has been called #Fexi by fans. "I ship [root for] him and Lexi," Walton says, "because I believe Fez deserves happiness." "When I first met Angus, I thought he was incredibly quiet and I was sort of frightened by him," she says of Apatow, "but as soon as we talked, we hit it off."
"He's a fantastic talent," Apatow said of Cloud's ability to portray Fez as well as he did. She's also taken aback by the fact that this is his first acting role. "He's incredibly intuitive, and it's a lot of fun to act with him because he's so there." It's been a delight to watch him work and, this season, to collaborate with him. He makes me feel like he's a member of my family."
Fez, who is now a bona fide heartthrob both on and off screen, shows a softer side in the second season of Euphoria. The plot delves deeper into his upbringing and the circumstances that led him to distribute narcotics to make ends meet. When it comes to overcoming stigmas, Cloud adds, "I just think drug dealers—I feel like probably a lot of them are kind." "Sometimes you have to have a strong façade, but you don't have to be an asshole or whatever." With that approach, Cloud is able to create a lovable dealer that the audience cheers on at every turn.
Cloud's future on the show is undetermined at press time, but his career outside of Euphoria is booming. He recently concluded Daniel Brown's horror film Your Lucky Day and is scheduled to act in the Vietnam war drama The Things They Carried alongside Tom Hardy, Stephan James, and Pete Davidson.
"SOMETIMES YOU GOTTA HAVE A TOUGH EXTERIOR, BUT PEOPLE MISTAKE BEING TOUGH FOR BEING AN ASSHOLE OR WHATEVER." CLOUD, ANGUS