Few makers shine as bright as Kilig Candle Co., the Vancouver-born wellness outfit that promotes higher vibrations and glowing self-care strategies with their vegan, all-natural, and thought-provoking provisions. This women-run team of light benders bring an elevated score of refinement and intention to their products, creating space for everyone, everywhere to enjoy the little things that spark a moment of rest across our busy schedules. 'Kilig' translates to joy, romance, and excitement in Tagalog, and with these whimsical wicks lighting the way, the essence of self-care adopts a new level of intimacy reserved for the young at heart.

Launched at the top of 2020, Kilig Candle Co. entered an existing market that needed a refresher for local Vancouverites, eventually breaking into the international realm and introducing a line of fundamentals that include an inclusive hand and body lotion, intoxicating rollerball perfumes, and a supple body wash, all of which are lovingly crafted in Kilig's studio in east Vancouver. What truly separates the brand from its competitors is their commitment to clean craftsmanship and camaraderie, lighting a candle for all demographics through global good will and harmony.

Kilig's founder, Sean Blishen, pulls inspiration from her Filipino heritage and her upbringing against Canada's western coastlines, sewing tenderness into her work that reflects these balmy landscapes. Blishen and her team seek to give back as much as they collect, and for every product sold the company donates a meal to children in need in the Philippines through their partnership with Adhika, a Canadian-based non-profit that supports Filipinos back home and internationally. The program was started in March of 2021 and since then has generated over 6,000 meals in donations. The non-profit has made notable strides in unique corners of philanthropy like film, with the release of an original coming-of-middle-age story titled "Islands" and collaborations with self-care names like Kilig.

Blishen strives to create a product with purpose, something exemplary to model from. Kilig Candle Co. also offers a take-and-return program, in which customers can return 10 empty containers or vessels and receive $10 off their next order. Sustainability has always been at the forefront of Kilig's mission, driving their practice into a responsible market that supports the planet while propelling a moment of rest for all who inhabit. Whether it's watching a candle bloom or treating your skin to well-deserved hydration, you can rest easy knowing that Kilig is doing the legwork in protecting our planet with recyclable packaging, cruelty-free practices, and a holistic heart driving this labor of love.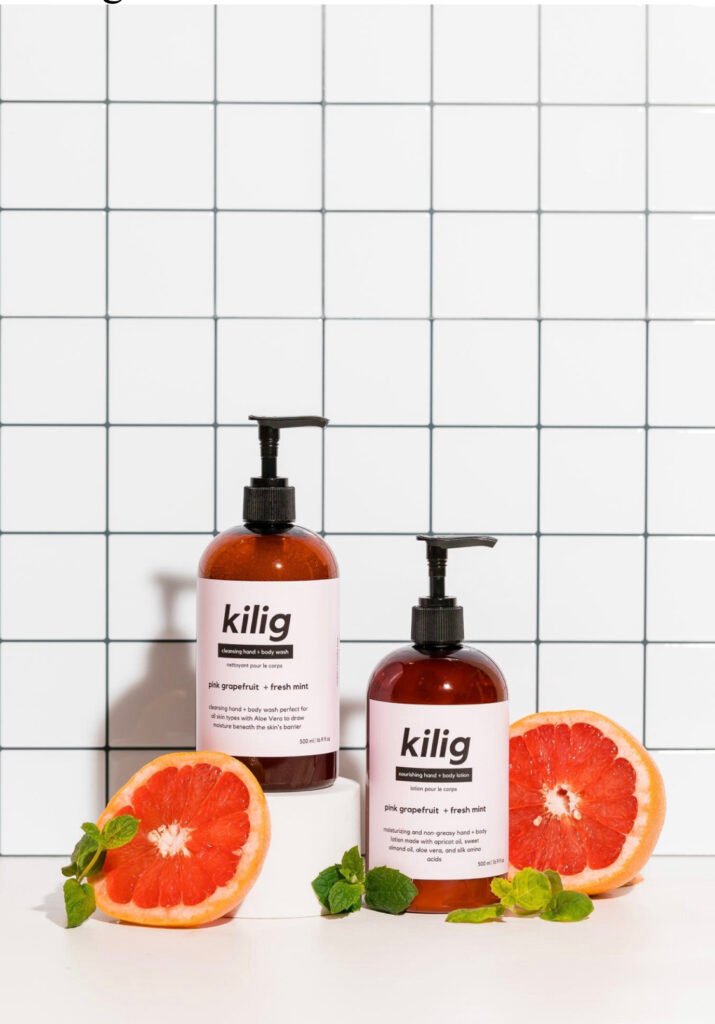 Beyond smart design, Kilig Candle Co. excels in gentle scents that flatter any space from kitchen to office. One such wick, aptly named "Mahal Kita", burns bright with elements of grapefruit and floral favorites like jasmine and neroli. In Tagalog, mahal kita means 'I love you', which is made clear through Kilig's pour of 100% soy candles.
Another fresh take is the "Maginhawa", made specially for homebodies who want to curl up with a good book. This candle is dripping with deep notes of cardamom, tobacco, and clove, an ideal companion for quiet weekends in the cabin or sleepy days in bed.
Kilig Candle Co. takes self-care seriously, going so far as to employ the expertise of distinguished names in their recurring Self-Care Sunday's outlet, found on the brand's online blog. In August of last year, Kilig featured Miss Nevada 2021, Kataluna Enriquez, who stands as the first openly-trans woman to compete in the Miss USA Pageant and take the crown for Nevada. Enriquez believes in the power of down time, and the importance of setting aside a day, at least once a week, with no expectations, no makeup, nothing but your whole self enjoying the moment. In tandem with this ideology, Kilig also prioritizes moments that matter, teaching us to stop and smell the flowers as often as we can. Their line of ethically-made candles and skincare products are strong enough to solicit a moment of pause, a true treat for the soul that often gets overlooked in our busy societies.
Find your flame with Kilig Candle Co.'s extensive line of home essentials, where personal space is celebrated and taken to new heights through community and quality craftsmanship. Kilig's candles burn bright for everyone, and permeate luxurious swaths of self-care that are equal parts clean, green, and pristine in their practice. By implementing a dose of humanity into their business model, Kilig Candle Co. has overstepped the usual roster of wellness and built a suite of treats that are warm to the touch.