Ten entrepreneurs, in no particular order of preference, that are dominating the marketplace in theirrespected sector(s). By reading, you will learn about each talented entrepreneur and what exciting operations theyare working on for the future as pioneers in their spaces.

Jose Gordo
IG: @Josegordo.eu
Jose Gordo is an Spaniard Entrepreneur, International Speaker, Military Veteran & Founder of FENTTIX. The successful military man turned entrepreneur has successfully spent the last 15 years traveling the world & encouraging thousands of people to transform their lives. Jose believes that the future of his organization & the overall marketplace of the world will fall under the emerging growth of technology. Furthermore, Jose stated "Every business will effectively have to allocate technology innovations to differentiate themselves in the marketplace." Jose's long term vision includes impacting millions more through his organization, books, & speaking events.
Terry Kilakos
IG: @Terrykilakos
Terry Kilakos is a Canadian Entrepreneur and President of North East Real Estate & Mortgage Agency. With a mission of providing financial knowledge and advisory through real estate, & various other financial services — Terry has been able to effectively build a multidisciplinary firm that offers a full service holistic approach in his marketplace for all real estate & financial needs. The organization offers many benefits to new and existing staff, many within the organization agree that they enjoy the welcoming office environment. In the future, Kilakos looks to further expand his organization throughout North America.
Brian Kim
IG: @Brianjaesungkim
Brian Jaesung Kim is a Korean-American entrepreneur and business magnate based out of Miami, FL. The former private banker and Fintech expert has been responsible for driving billions in sales and is involved as an equity partner in various operations. Currently, he operates as a managing partner with DFY Ventures, an e-commerce marketing agency headquartered in Miami, FL. Brian forecasts that the GDP in the e-commerce sector will only rise with time, and one of his personal missions is to help more people get involved in the e-commerce industry through his organization's services.
Ryan Kearns
IG: @Ryan.m.kearns
Ryan Kearns is an American entrepreneur, Serial Entrepreneur, & Real Estate Developer. The talented entrepreneur has successfully built and scaled in the sector of auto repair & restoration & real estate leasing. In his career, he has successfully scaled his organization Auto Dent Company to a power house auto repair center with multiple locations. Known as a hero for rescuing his friend during an ice fishing accident, Kearns is excited for the future growth of his organization. In the future, Kearns looks to expand further into the real estate marketplace as well as start a national roofing repair business to service storm damaged homes in America.
Chris Walsh
IG: @Therealestateleader
Chris Walsh is a driven sales professional, reaching prestigious levels of success for nearly two decades and was previously ranked as NJ's #1 RE/MAX agent. Chris has always been an industry leader, staying ahead of the latest trends and sharing his skills and expertise to ensure the success of others. Chris operates as an individual producer, selling over $65M in annual sales and also co-owns The Real Estate Leaders Mega Team, brokered by eXp Realty, which consists of over 90 members with annual sales topping $500M. One advice he has for a prospective entrepreneur is "Don't sugarcoat the truth. Honesty and communication with your clients and your staff is paramount."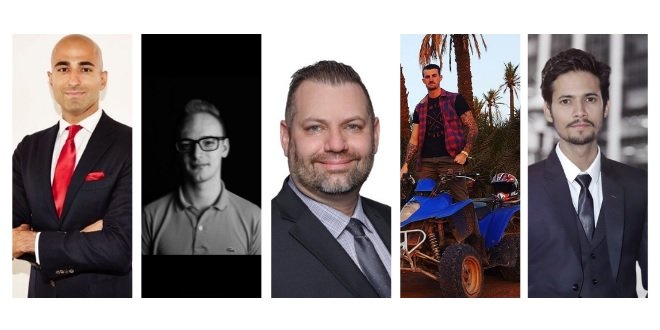 Nima Yamini
IG: @Nimayamini
Nima Yamini is the co-founder & CEO of a successful online education company P.N. & Friends, he's also the founder of Yamini LLC a boutique private equity firm based in New York, on top of that he's an active hard money lender in real estate. Nima likes to write about finance, business and share what he has learned as an entrepreneur from over 20 years of experience. Helping others learn about all the explosive opportunities that they could uncover with a better, stronger, and deeper understanding of the marketplace. Nima lives in Germany and the United States, which gives him a unique view on global finance and trade. His hobbies include hiking, martial arts and literature.
Rory Crue
IG: @Rorycrue
Rory Crue is an innovator and out-of-the-box thinker with a keen eye for opportunities and potential. Rory is revered for his ability to persevere and maximize his innate potential to drive growth. A highly spirited entrepreneur, Rory's Hard to Kill fitness is a leading business that provides people a space to rekindle their health. He is passionate about helping people find clarity on their paths to wellness while becoming better versions of themselves. As an entrepreneur, Rory is fascinated by opportunities that allow him to find quality and innovative solutions relating to fitness and wellness.
Moritz Pindorek
IG: @Moritzpindorek
Moritz Pindorek is a German entrepreneur, former professional track & field athlete, & global proprietary crypto currency advisor. The talented athlete turned entrepreneur has successfully built and scaled many EU startups including, a boutique Social Media Agency & Early Germany CBD company(s). Moritz has successfully built a name for himself in the marketplace through his trusted proprietary concepts and high level connections with global elites in the tech space and various investors. Today, Pindorek helps Crypto & NFT projects seed millions in funding & as well offering advisory and equitable retainment for NFT Projects. In the future, Moritz looks to work with more Fortune 500 companies in their shift to Web3 as an advisor.
Brian Walsh
IG: @Bwalshrealestate
Brian Walsh began his real estate career in late 2017, after working as a school administrator for approximately 10 years. Brian has consistently doubled his sales volume year over year! His big goal for 2022 has been to grow his team at eXp Realty. Brian has an unmatched passion and deep knowledge about the real estate industry. He believes the future of real estate is going to continue to be full of disruptors, changing technology, and more knowledgeable clientele — you need to be the person they think of when they think of real estate. Check out his Instagram to learn more about Brian.
Deepak Thapliyal
Twitter: @Dt_chain
Deepak Thapliyal is an Indian Entrepreneur & the CEO of Chain a blockchain cloud provider for enterprises with a mission of re-capturing the permissioned blockchain space. Deepak steered toward the private sector after graduating from New Delhi University, and through passion and strategic goals — Deepak was able to build an arbitrage trading system in the Crypto sector. As a pioneer, Thapliyal believes that cryptocurrency is the future of commerce and currency stating: "I believe cryptocurrencies and blockchain as a whole will disrupt the traditional global financial system as we know it for good." In the future, Deepak is excited to expand his organization through the betterment of his existing services & new blockchain retail services.