She was born in Inglewood became a 2nd generation gang member and now has transformed her life, giving back to her community.
It is so surreal to learn about all those individuals and souls who have always made sure to give it their all in order to reach their highest potential and, most importantly, be their best versions in everything they ever choose to lay their hands on in their journeys and life. It is even more surreal to see how most of these individuals have been women who have broken barriers and exceeded limits to reach a certain prominent position in their lives or just transform their lives for the better. We couldn't help but notice how Raina Carrillo did the same in her journey, from being a 2nd generation gang member to transforming her life and giving back to her community.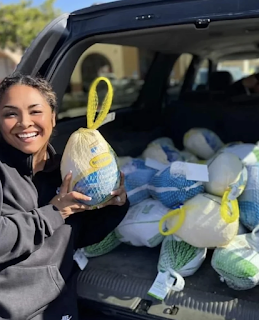 Raina Carrillo was an at-risk youth in Inglewood, California, and in 1997 she was almost gunned down in front of Morningside High School and survived. She chose to turn her life for the better by joining Peace Colors, a Violence Prevention program, and decided to give back to her community. Since then, she has been working in the non-profit sector for 20+ years and has attained expertise in gang intervention, while her passion is helping her community. In February 2017, she founded Phoenix Rising Coalition non-profit organization with her mother's support and encouragement. This incredible non-profit is dedicated to unity in the community, providing resources for the youth and families residing in South Los Angeles. Their vision is to educate, empower, and teach awareness to the youth and families on many levels.
Raina Carrillo recalls how as a 15-year-old, she had told the Inglewood Mayor and Chief of Police at the time that she would one day become a Mayor of Inglewood, and interestingly, she ran for the position this year. She also credits Buddha Jones Agency in Los Angeles, CA, for giving a massive donation to her non-profit, passing out turkeys to families in need in the Inglewood community.
For the unversed, Buddha Jones is an award-winning advertising and design agency striving to engage people in a way that reflects the world, shapes cultures, and sparks emotions. Raina Carrillo, since the pandemic, saw how families suffered to feed their loved ones, and so she wanted to help her community.
Besides Buddha Jones, she also highlights how Caputo Consulting Agency assists with providing funding and resources for non profit organizations. "Together we are able to make instrumental change in the world." (www.ariellecaputo.com)
On a parting shot, Raina Carrillo says, "I finally removed the fear of failure and rejection and followed my dream. We are never too old to follow our dreams; we must never give up; we don't know what blessings are right around the corner if we stay dedicated to our dreams."