Balenciaga, the high-end fashion label, has released a new ad pushing a series of roughed-up sneakers with a hefty price tag, and the internet is buzzing.

Following the unveiling of the couture brand's new Paris sneaker on Monday, photographs of badly ripped, distressed sneakers photographed by photographer Leopold Duchemin for the brand went viral, with fury over the sight of the high tops circling online.
However, the photographs of the ruined sneakers that have been circulating on social media do not tell the whole tale. While the photographs have sparked the most debate, they are actually of exaggerated, limited edition versions of the Balenciaga sneakers.
Only 100 pairs of "extremely wrecked" sneakers will be sold for $1,850, according to the fashion brand. Meanwhile, the non-limited edition and less roughed up variants are priced between $495 and $625 on the Balenciaga website, depending on the design.
The Paris-based business stated in a news release that the marketing photographs show the shoes "very worn, scuffed up, and dirtied."
The still-life photographs "suggest that Paris Sneaker are supposed to be worn for a lifetime," according to the publication, a remark that feels especially relevant in light of recent discussions about the rapid fashion industry and its impact on the environment.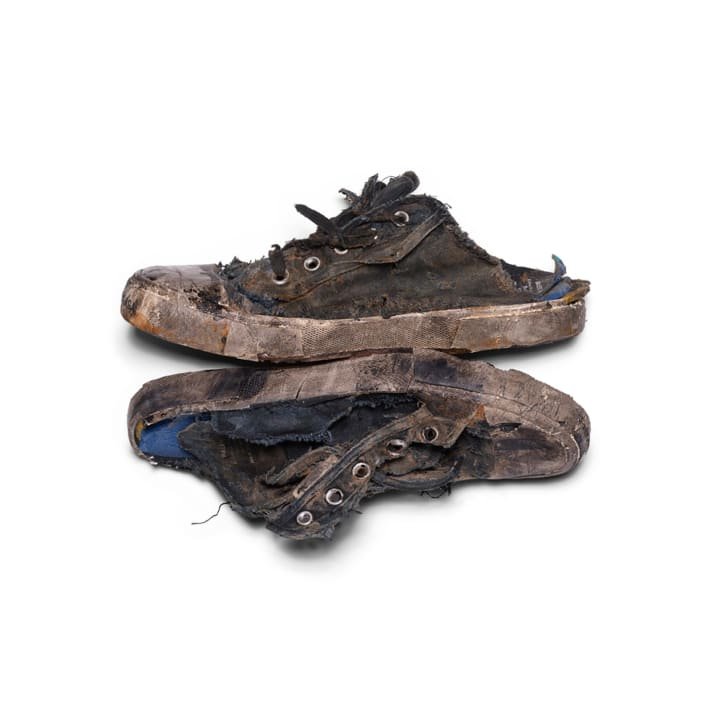 Demna is recognised for his unconventional style, and the Paris shoe launch isn't the first time his creations have elicited puzzled looks.
Balenciaga released a $2,145 bag in 2017, which was mocked for its resemblance to Ikea's "Frakta" bag. The original Ikea bag could be purchased for 99 cents at the time.
The sneaker is described by Balenciaga as a "retooled classic design" with "distressed canvas and rough edges, giving it a pre-worn vibe."
The Paris sneaker has received mixed reviews online.
The website SoleSavy, which bills itself as a "community for serious sneakerheads," wondered if the "aged sneakers craze" had gone too far.
Balenciaga has "taken it to the next level," according to Tora Northman, a news editor for the publication Highsnobiety, who also added that the company is "always making contentious pieces that create controversy."
However, not everyone thinks the sneakers are funny.
Pam Boy, GQ France's head of editorial content, commented on Instagram that the product's message is clear: "Purchase once and retain forever. People who can afford luxury things will be forced to buy 'pre-worn' looking sneakers for 1450€, according to Demna (Balenciaga's creative director). He's utterly flipped the concept of luxury on its head."
The jury is still out on whether this latest marketing strategy deserves great acclaim or scorn. In any case, Demna and Balenciaga have once again gotten people talking, attracting many to a brand that seems to thrive on controversy.